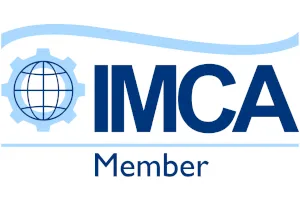 Full accreditation for Drafinsub as IMCA Contractor Member for Diving Services.
IMCA is a leading trade association representing the vast majority of contractors and the associated supply chain in the offshore marine construction industry worldwide. IMCA is a respected voice around the world which promotes good practices in critical areas such as quality, efficiency and technical, with a particular focus on health, safety and environmental standards.
Drafinsub srl is an IMCA Contractor Member. The company is proud to announce receiving full Contractor Membership with the International Marine Contractors Association (IMCA) for the provision of Surface Supplied Diving and Closed-Bell/Saturation Diving.
I would like to thank all my collaborators for achieving this important result, as it's another milestone in our development path. This is an important recognition for all the improvement Drafinsub has made in the last few years, and has to be a starting point for our future growth.

Gianluca Passeri, Drafinsub's CEO
With this cetification Drafinsub becomes both one of the few Italian companies with IMCA mebership, and one of the fewer IMCA companies located in the mediterranean basin to offer closed-bell/saturation diving services.
With our containerized and easy to mobilize saturation systems, we can now offer our services to the oil&gas and the renewable energies industries at full pace.